At Kingsbridge Private Hospital in Sligo the next generation of MRI scanning is now available through our partnership with Alliance Medical.
MRI Scan Centre at Kingsbridge Private Hospital
The Kingsbridge Private Hospital in Sligo now offers one of the most advanced clinical MRI scan facilities in Ireland with the ability to scan all areas including Neurology, MSK, Abdominal and Cardiac.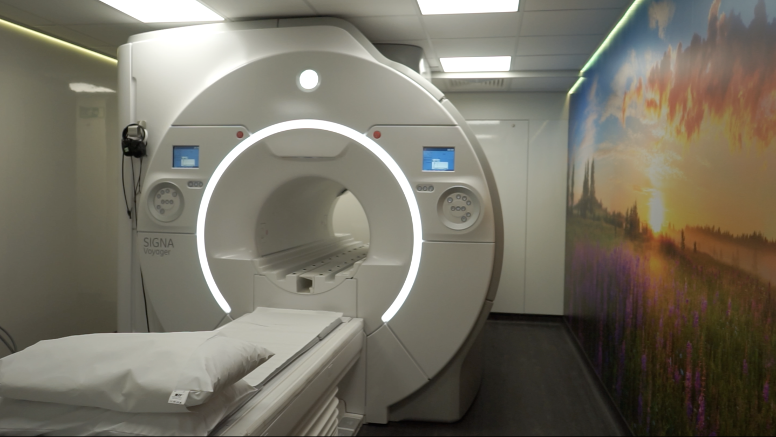 The combination of the latest scanning technology, five star facilities and comprehensive scanning service options places our Diagnostic Centre at the forefront of private MRI scanning and imaging in Ireland.
MRI (Magnetic Resonance Imaging) Technology
Alliance Medical is pleased to announce the installation of a state of the art 1.5T MRI Scanner which utilises the ground-breaking AIR™ Coil Technology to enhance patient comfort and experience at the Kingsbridge Private Hospital Sligo. 
Kingsbridge Hospital Sligo is now part of Alliance Medical's network of 32 Diagnostic Imaging Centres Nationwide, where patient centred services are driven by quality and patient care.
The state of the art 1.5T Philips Ingenia MRI scanner is currently one of the most advanced clinical units in Ireland with the ability to scan all areas including Neurology, MSK, Abdominal and Cardiac.
This NEW MRI Scanner will provide superior scanning services, fast appointments and which is accessible to everyone throughout Sligo and neighbouring counties in the North West of Ireland.
The investment in this scanner, by Alliance Medical, brings the latest in MRI technology to Sligo.  
The new MRI is a wide bore scanner and along with the unique AIR™ Coil Technology and faster scan times creates a much better scan experience for all patients especially for children and those who suffer from claustrophobia, whilst providing superior image quality. 
Our Head and Spine coil also has the unique ability to tilt allowing maximum comfort for patients with kyphosis and those unable to lay flat.
By providing better patient outcomes through increased patient comfort, reduced scan times and high image quality, Alliance Medical will deliver much needed diagnostic services to the people of Sligo and the North West Ireland Region.
Resulting in faster diagnosis - The Clinician can go right to the pathology and figure out what's wrong thus giving the possible outcome for the patient. 
Prof Martin Graves University of Cambridge UK – 'For patients who find it difficult to tolerate MRI, this scanner reduces scan times, allowing us to scan patients from whom we previously wouldn't be able to get any useful data.' 
Importantly, enabling access to faster diagnosis of medical conditions can assist Doctors and clinicians to achieve better outcomes for the patient. 
Clinically all of our coils incorporate Philips-exclusive direct digital technology; allowing higher resolutions while maintaining crystal clear images.
MRI emits no radiation and has no known detrimental effects on the patient. It is a quick, safe painless procedure.
MRI Scanning Services Offers:
MRI provides clear, detailed images for a variety of pathology and soft tissue injures. Including but not exhaustive:
Neurological Imaging: MRI head and brain scan for hearing loss, MS, epilepsy, cause of headaches etc
Musculoskeletal Imaging: Knee, Neck, Shoulder and Back MRI scan for muscle injuries, ligament damage, labral tears, sprains and joint problems etc
Sports Injury: Muscle trauma, inflammation, sports hernia, neurological problems, spinal problems, vascular problems, soft tissue abdominal/pelvic pathology, bowel problems, ENT conditions
Abdominal MRI Scan and Imaging: For liver problems, kidney problems, gallstones, Crohn's Disease etc
Vascular Imaging: For looking at blood vessels etc
Lumbar Spinal Scan and Imaging: For back pain, paraesthesia (pins and needles in limbs), curvature of the spine etc.
Why use the Kingsbridge private MRI Scan, Imaging and Diagnostic Service? 
Confidence that you are using one of the most advanced clinical MRI scanners in the UK and Ireland.
MRI scanning offers a thorough and comprehensive examination
Full Whole Body MRI Scan option, providing full health check & screening
A focus on patient comfort with a choice of in-room ambient lighting and music, head-first or feet-first options and a unique tilt option for patients unable to lay flat.
Our MRI scanner is bigger than standard models and therefore allows more space and comfort for larger patients and patients prone to feeling claustrophobic.
It is safe, painless and non-invasive
There are no known side effects
How do I book an MRI scan?
Our private MRI Scan, Imaging and Diagnostic Service can be booked using the BOOK A SCAN link, following referral via Healthlink, email or fax.
Referrals can be arranged by simply:
What is an MRI Scan?
Magnetic Resonance Imaging, otherwise known as MRI, is used to take images of the body's organs without producing X-rays.
What happens when you arrive for your scan?
When you arrive at our Diagnostic and Imaging Centre you will be greeted by our friendly reception staff and asked to fill out your safety questionnaire. 
Some important things for us to determine are:
Have you a cardiac pacemaker or defibrillator
Have you any artificial limbs
Have you any other surgical implants
Have you EVER had metal fragments in your eyes
If there is any chance you are pregnant
You will be asked to remove all metallic objects from your body and may be asked to change into a patient gown.
You will then have the option to choose your preferred music playlist and the lights in our ambient room that you find most pleasing while completing your scan.
Once on the MRI scanner, a piece of equipment called a coil will be placed around the affected area and the scan will commence. The examination is completely painless.
How long does an MRI Scan take?
The total scan time is usually 20 minutes per body area. We recommend arriving at least 15 minutes prior to your appointment so that we can go through the necessary checks and to answer any questions you may have.
Are there any after effects?
No. You can drive, eat and drink as normal.
Are MRI & X-Ray procedures covered by health insurance?

MRI and X-Ray scans are covered for members of:
ESB
VHI
Garda Medical Aid
Prison officer Medical Aid Society
Currently these does not apply to members with VHI, Laya, or Irish Life cover.
FAQ's For Referring Clinicians
Why opt for MRI Scanning?
It provides clear, detailed images for a variety of pathology. Including, but not exhaustive:
Musculoskeletal problems
Sports injuries
Neurological problems
Spinal problems
Vascular problems
Soft tissue abdominal/pelvic pathology
Bowel problems
ENT conditions
An MRI emits no radiation and has no known detrimental effects on the patient. It is a safe painless procedure.
Who can not have an MRI scan?
For safety reasons, patients with the following implants are not suitable for this procedure due to the strong magnetic fields used in MRI:
Cardiac Pacemaker/Defibrillator
Aneurysm Clips
Cochlear Implant
Programmable Hydrocephalus shunt
If you would like to book an appointment or require further information on the available options, please do not hesitate to contact us by simply emailing sligo@alliancemedical.ie, phoning (071) 930 0008 or faxing (071) 930 0036.
;