Welcome to our Physiotherapy Clinic. Our multidisciplinary team of Physiotherapists, Sport Medicine Consultants and Healthcare Professionals are on hand to get you back to doing the things you love.
Located at Queen's PEC along the Stranmillis embankment, Kingsbridge Physiotherapy & Sports Injury Clinic gives you access to a local specialist service with the added reassurance of a seamless pathway to diagnostics and surgery at Kingsbridge Private Hospital if required. 
Our clinic is led by Sports Physiotherapist, Shea McAleer. Shea is a highly qualified and experienced Sports and Musculoskeletal Physiotherapist with over 13 years' postgraduate experience.
Working alongside Shea is  Cathal O'Kane, Specialist Musculoskeletal & Sports Physiotherapist.
Stay Connected! Follow us on:
Facebook @KingsbridgePhysiotherapySportsInjuryClinic
Instagram @kingsbridgephysioclinic
Twitter @clinic_sports
---
Rapid Access to Rehabilitation Starts Here
Attending Your Appointment
At your appointment one of our physiotherapists will assess and establish your specific injuries or symptoms to build an accurate diagnosis. We then offer a completely personalised treatment plan, specific to your needs and aim to get you returned to your usual self.  
Shea has become my first port of call for any injury I've experienced

  Julie Nelson, Northern Ireland Senior Ladies International
 
What Services Are Available?
Our Physiotherapy Clinic provides a one stop shop for all your physiotherapy and treatment needs. Offering pre and post operative physiotherapy & elite sports physiotherapy with access to:
Diagnostics including rapid access to CT & MRI
Sports Medicine
Over 300 Consultants
Vald Performance equipment including Forcedecks for Jump & Strength and NordBord for Hamstring Strength
Dartfish - a Running Analysis Software
Acupunture
Sports Taping 
Shockwave Therapy 
Sports Massage
Queen's PEC State-of-the-art-facilities
BIA Support through the Apex Athlete Development Programme
Hydrotherapy at the Health & Recovery Hub
And much more!
What Can We Treat?
Our physiotherapists are experts in treating patients with, but not limited to, the following conditions:
Sprains, strains and tears
Knee and hip injury
ACL repair and other sporting injuries
Fractures and dislocations
Neck, back and shoulder pain
Core stability training
Soft tissue injuries (ligaments, tendons, nerves, connective tissue)
Pre/post op rehabilitation (e.g. Arthroscopy of knee, Rotator cuff repair, ACL recon, TKR)
Chronic and nerve pain
Postural problems
Once the symptoms start to resolve and function is returning, we offer advice on minimising the risk of recurrence of symptoms, e.g. advice on work postures, sporting postures and any biomechanical adjustments to maintain pain free function.

If the symptoms do not respond to appropriate physio/rehab and we feel there may be a need for further input, you will have access to a seamless referral pathway at Kingsbridge Private Hospital. This includes access to MRI, X-ray, CT, Ultrasound and over 300 of Northern Ireland's best Consultants.

For further information on our Scanning services you can visit the following pages:

Sports Packages and Screenings
Offering bespoke sports screening packages and sports medicine expertise, you will have rapid access to treatments, diagnostics and rehabilitation services including our Minor Injuries Clinic.
Cardiac MRI
Cardiac MRI allows Cardiologists to see the heart in more detail than any other imaging formats available. This facilitates non-invasive, non-ionising investigation which can more accurately identify those individuals in need of valve replacement, coronary stenting or bypass operations.
Cardiac Screening 
A cardiac sports screening at Kingsbridge Physiotherapy and Sports Injury Clinic is available for young athletes aged between 16 and 35 years old and offers access to 12 lead ECG, Echocardiography, Exercise Stress Testing (EST treadmill), Cardiac CT, Consultations, Blood Tests and Cardiac MRI.

No matter which sport, or at whatever level you play, everyone is potentially at risk to abnormalities. Anyone below or above the age parameters can avail of a private consultation with one of our resident Consultants or avail of a Healthy Heart Assessment.

If you wish to book an appointment please complete our Pre-Participation Cardiac Sports Screening Questionnaire prior to your appointment were possible.
---
Pricing
In partnership with Queens Sport, we are delighted to be able to offer Queens Sports members / students and staff a discount rate on our Physiotherapy initial consultations and review appointments.
---
Who we work with?
We work with leading teams and organisations across Northern Ireland, so you can be sure you are seeing an expert when you come to Kingsbridge.
Our sports partners include:
Athletics NI
British Boxing Board of Control
Boxing Union of Ireland
Glentoran FC
Hockey Ireland
International Mixed Martial Arts Federation (IMMAF)
Northern Ireland U19 team
Northern Ireland Women's team
NISF (Northern Ireland Sports Federation)
NISL (Northern Ireland Sports League)
Queens Elite Athletes
Queens GAA Academy
The Belfast Giants
The IFA Youth Academy
Ulster Amateur MMA (UAMMA)
USRFR (Ulster Society of Rugby Football Referees)
---
Queens Elite Athlete's
Our Physiotherapy Clinic located at Queens PEC has had the pleasure of providing Physiotherapy assistance to Queens up and coming Elite Athletes, including Ewan McAteer, a member of the Irish Senior International Gymnastics team.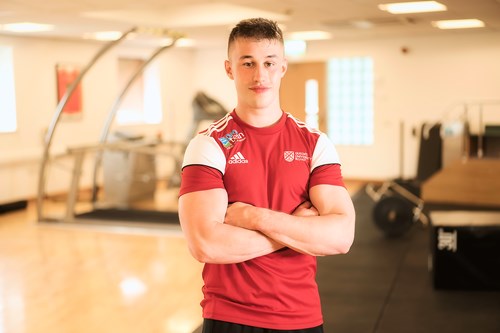 "Shea has been an enormous help to my rehab and rehabilitation for many different injuries. His knowledge and experience have been an instrumental part to managing any current injuries allowing me to return to elite sport, and for preventing injuries from occurring in the future. Kingsbridge physiotherapy as a whole have been professional and pleasurable to work with." - Ewan McAteer
---
Additional Services
Training Events 
Kingsbridge Training Academy have accomplished Surgeons, Physicians, General Practitioners, Psychologists, Nurse Practitioners and an array of AHPs with a long-standing interest and commitment to training and education.

We offer bespoke training courses alongside traditional recognised programmes engaging with issues that are of contemporary relevance and are delivered by some of the UK's most respected clinicians and health professionals.

Our core team of experienced staff work alongside enthusiastic and highly experienced medical educators from across the UK.

Kingsbridge Training Academy endeavour to maintain the highest standards in medical education, attaining accreditation and affiliations with recognised UK bodies. As a training organisation we are accredited and approved by the Advanced Life Support Group (ALSG), UK Resuscitation Council BASHH, HSENI, the Association of First Alders Open College Network and the CPD certification service.

We also have links with universities and professional bodies across the UK and Ireland.

For more information on the available Training Events please visit the Kingsbridge Training Academy website.
;